According to forcasts of Bloomberg ecnomist, Ukraine will finish 2015 as the biggest loser in global growth.
The conflict-battered eastern European nation will see its gross domestic product contract 4 percent in the fourth quarter from the same time in 2014, the worst of 47 economies polled by Bloomberg in April through June. The ill fortune will be shared by neighboring Russia, where GDP will shrink 3.5 percent by year-end amid international sanctions and depressed oil revenue. Here's how those two stack up among the 10 biggest GDP losers: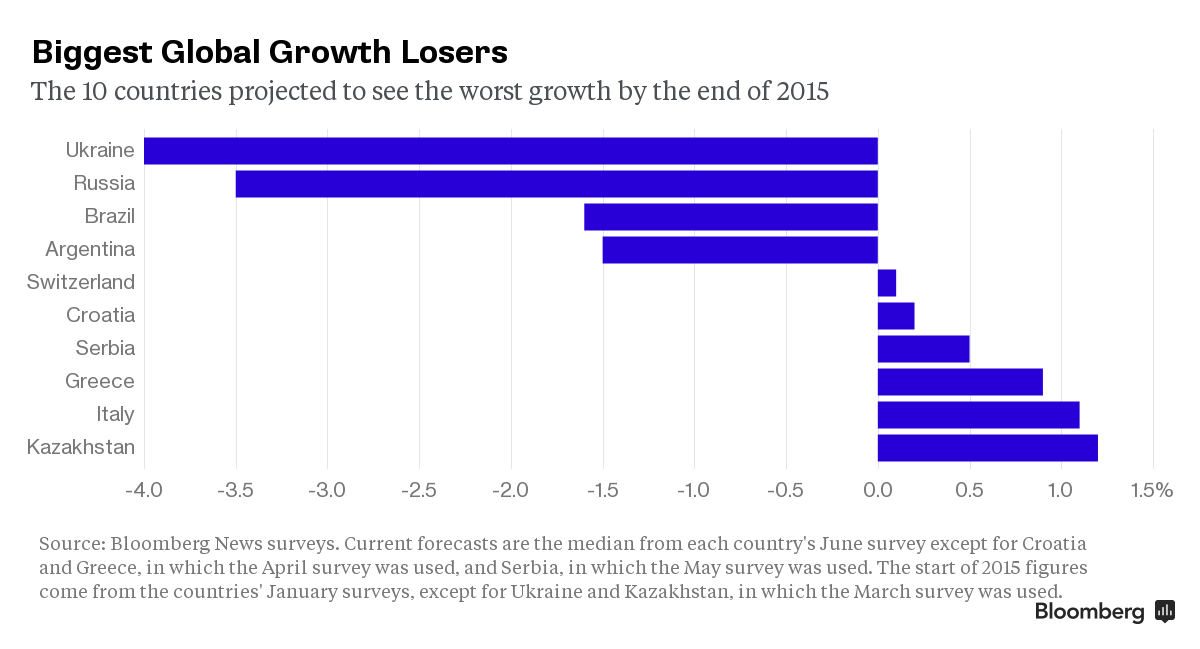 Parts of
Latin America
also will be struggling on the eve of 2016. Brazil and Argentina, each suffering from soaring inflation and
unemployment
, will see year-over-year contractions of 1.6 percent and 1.5 percent, the poll data show. Brazil saw the biggest downgrade among the 28 economies that were included in Bloomberg's January survey.  At that time, South America's powerhouse was expected to grow 1 percent this year.
Switzerland, still
reeling
 from the Swiss National Bank's January decision to scrap its franc-euro cap, clocked in at No. 5 on the unfavorable GDP list, expected to eke out growth of 0.1 percent. As its evolving financial crisis grabs international attention, Greece's standing at No. 8 could be precarious; economists projected in April that the country would expand 0.9 percent at the end of 2015.
Rounding out the dismal 10 were Croatia, Serbia, Italy and Kazakhstan. Kazakhstan, whose biggest trading partner is Russia, is now expected to grow 1.2 percent, having plunged from the 3.6 percent economists projected three months ago.
Current forecasts are the median from each country's June survey except for Croatia and Greece, for which the last survey was in April, and Serbia, which was in May. The figures at the start of 2015 come from the countries' January surveys, except for Ukraine and Kazakhstan (March), and Vietnam (December). That brought the total number of economies surveyed to 47.