In the 70s, famous Georgian pharmacist Irakli Natroshvili created a recipe for Saperavi's non-alcoholic beverage in Georgia and post-Soviet space.
Drinking samples were sent to laboratories in Japan and America, where its antioxidant content was confirmed, but non-alcoholic Saperavi was never produced.
40 years later, the son of Irakli Natroshvili – Giorgi Natroshvili decided to restore his father's recipe and technique and turn it into a business. As he says he took out old and checked the results of foreign laboratories in Georgia of shelves, and tested it at Kakha Bendukidze's laboratory, where he got the same result. Marketer had an interview with Giorgi Natroshvili about perspectives of Georgian product on local and foreign markets:
What is the history of Saperavi's non-alcoholic beverage and other than antioxidant activity, what qualities does it have?
In the 70's, my father worked on wine products. We have now released his works and restored the technology, the recipe and technique – we have received a product that is called the wine tea. The packets are packed in 3-4 minutes in hot water, and we get a non-alcoholic red wine drink that is derived from natural products, physical processing,  taste and color and contains all the useful properties that are in red wine. Also, from my father's work, we developed a cold, kvevri, non-alcoholic drink, in three forms: dry, semi-dry and semi-colored, that tasteful qualities have also been greatly appreciated. Similar to the use of red wine, this product affects like antidepressants to avoid stroke and improve blood circulation.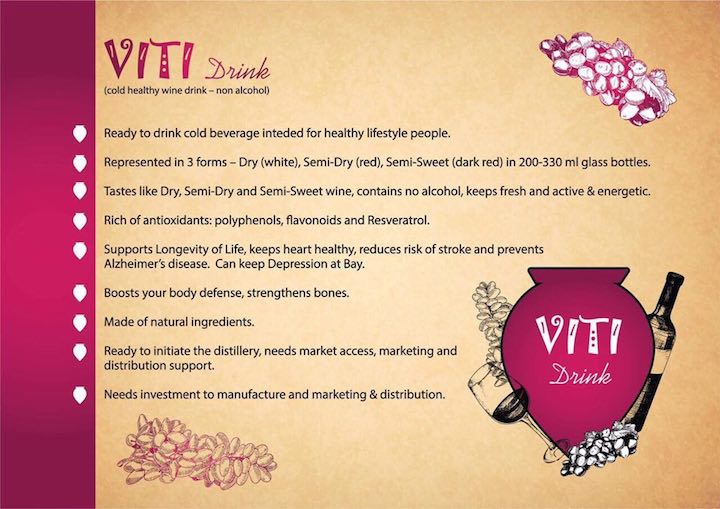 What strategy do you have; what contests or projects have you participated in?
We introduced the idea to Startup Georgia, where we won, but in disagreement with the partner, we refused to continue our activities. In addition, we participated in the Creative Business Cup Contest, which we also won and went to Estonia and Denmark at the international stage. In Denmark, the Chinese robot won the competition. Of course, if the Food Section was separate, I'm sure we would not be back without a prize, but we had a chance to introduce our beverage. At this stage, we look forward to suggestions from the people interested in our product.
What prospects do you have on the Georgian and international markets and who is your target customer?
Saperavi's non-alcoholic beverage is designed for people who follow a healthy lifestyle. Doctors often advise red wine, but it is more difficult for a Georgian to determine the dose properly, depending on the wine, Saperavi's non-alcoholism will solve this problem. In addition to ski resorts, non-alcoholic drink will provide them with a mulled wine. An antioxidant product is the world's pomegranate juice, as well as a wine drink that will be packed in 200-300 milligrams bottles and made from wine a products in qvevri. We want to be in the Western world and in Muslim culture where many people want to taste wine but religion prohibits alcohol. In addition, in the radiation zones, for example in Ukraine or Japan, the need for this product is much more visible. As a result of the competition, there was great interest in the representatives of Singapore, where high fines are when driving under drunken condition.