New cafe "Stockholm" has opened in Tbilisi, on Kazbegi Avenue, offering a new concept. A visitor may serve himself with anything he wants just by paying admission fee- 15 GEL. Marketer had an interview with Tornike Abashidze, Director of "Stockholm".
Tell us about "Stockholm". Based on which concept did you create cafe?
I was a customer of this kind of cuisine in Sweden. I would bring Georgian guests there, who were pretty satisfied with the idea. Me and my partner came up with the idea to open the same style cafe in Tbilisi during the visit. We've just opened "Stockholm" and I can already say, it works.
This is worldwide accredited restaurant, which connected family-style cuisine with Swedish table, meaning you pay the admission fee and can have as much as you like, you're not limited in quantity; Coffee, dessert and fruit is also included in the price.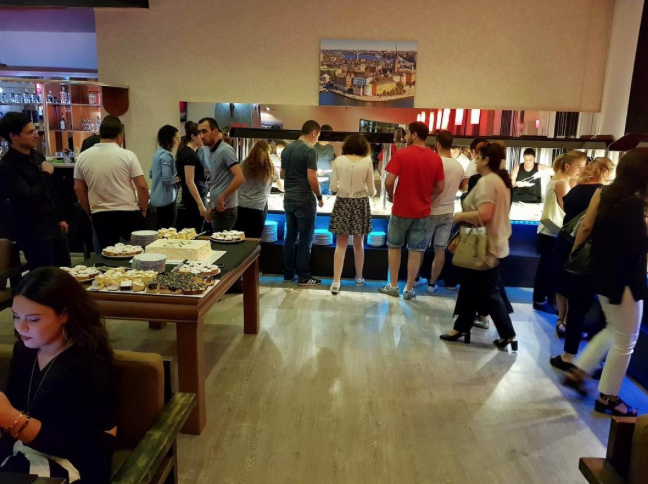 Why did you pick the name- Stockholm?

It's symbolically, as we have Swedish table principle and that's the place where I've been based for 10 years.
How lucrative is this business? Is there a risk?
There is a risk. We are depended on Georgian culture, also we work on less profit but maintaining maximal quality. We hope, our loyal clients will consume the amount that they actually need. So far, everything's going well, the number of clients increases day by day. Our aim is to provide busy people with nice dinner in unlimited time. Our waiting duration is 0 min. Our segment range is wide, as we also offer 8 GEL menu during lunch time, that includes medium plate and one glass cold drink. A customer is not limited in selection, one may serve himself as much as he want.